The continual evolution of Google Shopping, the online shopping and e-commerce as a whole is such an intriguing space.
Whether it's Amazon locking us into a combo of convenience and commitment with Prime or Target, Walmart, and Macy's making great strides to not be left in the dust of 'free two-day shipping' – as well a launching some interesting online/offline hybrid models for same-day pickup in their own right – the fact remains, we'll be buying more from our phones tomorrow than we are today.
In that vein, there's about to be interesting changes for Google Express. Both the website and app are being redesigned to shape a superior, hyper-personalized UX.
In addition to this new configuration, the app will now be called the Google Shopping app instead of Google Express.
In case you're not already aware, Google Express is an integrated delivery service powered by Google where consumers can shop from a variety of stores like Target, Walmart, Costco, PetSmart, Walgreens, etc. — directly from the Google Express app and their Google Home device.
So, what changes will be made?
A Personalized Google Shopping Homepage
Google Shopping's homepage is being redesigned. Customers will now have the ability to filter products they're viewing by features and/or brand names and additionally, product videos and reviews will be integrated directly into listings. For example, say you're in the market for new sunglasses – you'll now be able to filter products with key characteristics like "lens type", "silhouette", and "material".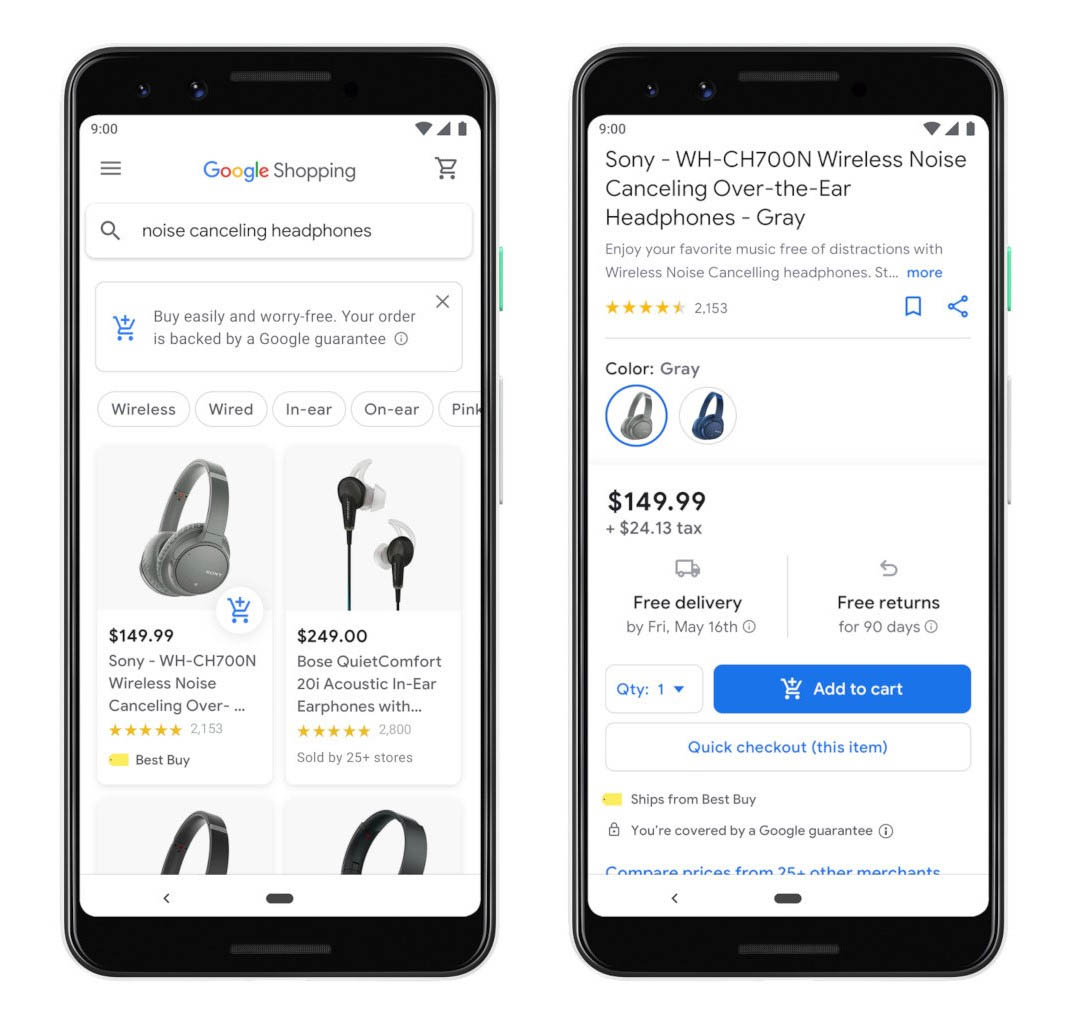 A Seamless, Blended Shopping Cart Experience
Now, a blue shopping cart icon will be used on certain Google Shopping products. This blue shopping cart button will indicate that these items are eligible to be added to the universal Google shopping cart and paid for using a credit card that's been saved.
On its own, this doesn't sound like much – but bear with me. This will allow customers to buy multiple items from a number of different retailers using a single checkout. Subsequently, all of these purchases will be back by Google's guarantee, which will include Google handling customer support, returns, refunds and more.
This means that, in essence, this new Google Shopping experience will see a blending of the previously established Google Shopping actions and Google Express.
New Forms of Shopping Ads
For both merchants and advertisers, they will now be able to select specifically which Google services they want their ads to be visible on. These platforms will include YouTube, Google Images, Google Discover, Google Shopping, and Google Assistant.
This means that when someone is watching the unboxing of a product on YouTube or using Google Search for product research, they will, in theory, have a more seamless experience for shopping that's accentuated by how, when, and what ads they will see.
This new configuration will be mean a happier shopping for the customer with less friction and for advertisers, potentially an uptake in both click-through and conversion rates.
Conclusion
I'm continually impressed by the moves Google makes to improve the UX of each and every search journey we undertake. There are pros and cons for each, obviously, but their updates always feel very natural. Without losing sight of "what's 'in it for them?" in any way, this is a mutually beneficial evolution in the online shopping experience for consumers and online retailers alike.
You don't have to do it alone Blueliner can help. Contact us with your Digital Marketing needs and be ready to take your business to the next level.