As a digital marketing agency, it's important for our team to keep up with all the changes in the fast-paced world of marketing.
We've gathered a list of some of the most important marketing trends of 2023, based on insight and predictions from industry experts.
1. Short-Form Videos
With the rise of TikTok in 2022, it's no surprise that video-based content will remain a key focus for most. Short-form videos such as Instagram reels, TikToks, and YouTube shorts are successful drivers of engagement and brand awareness, and have been proven to keep viewers' attention in a world where attention spans become shorter by the day.
According to data from HubSpot's 2023 Marketing Strategy & Trends report, short-form video will see the highest growth of any trend, with companies choosing to invest more resources towards building such content.
2. Influencer Marketing
Whereas some experts are predicting a potential decrease in overall marketing budgets in 2023, it seems this might not necessarily be the case for influencer marketing, which is proving to be more resilient to the economic landscape than other types of digital marketing.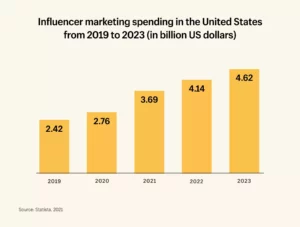 Many marketers who used influencers in their strategy in 2022 are planning to maintain or even increase their spend levels, as a result of the increased return on investment brands see when they work with select promoters.
With a lot of consumers (looking at you, Gen Z) starting to trust influencer recommendations more than usual branded social media content, influencer marketing can play a huge role in increasing engagement, traffic, and brand awareness. However, it's important to remember that companies need to spend time to find a high quality influencer who aligns with their values and whom their audience trusts.
3. Podcasts
26% of organizations use podcasts to reach new and existing audiences, with the hope to catch the attention of the nearly 62% of US consumers who listen to podcasts. Whether to increase engagement to increase engagement to current and potential customers or to diversify your marketing strategy and efforts, podcasts are also useful because of how seamlessly they can be integrated into all your other digital channels. Well prepared and structured podcasts can provide a boost to your SEO efforts and can easily be shared on all social media channels to gain visibility.
By developing relevant content, brands can create a strong community amongst their listeners, who come to trust the brand for its expertise in a certain area. Oftentimes, loyal listeners become loyal subscribers and customers. Because podcasts don't have a "one size fits all" approach, there are a number of ways you can get ideas for new content, whether it's by requesting feedback directly from listeners, by inviting guest speakers, or by following trends in your industry.
4. Interactive Marketing & Gamification
Interactive marketing is a strategy which adds elements such as games, quizzes, polls, and others to online content. This can include adding a short game to your home page or landing page, creating quizzes or polls on social media channels, creating interactive infographics and videos. Interactive content is much more successful at capturing users' attention and is a good method to increase the number of leads and conversions, customer loyalty, and overall levels of engagement amongst your audience.
5. First Party Data Priority
Google's plan to phase out its use of third-party cookies was initially announced in 2020, when the company showcased a long-term roadmap on how they would implement new, more private ways of tracking web users.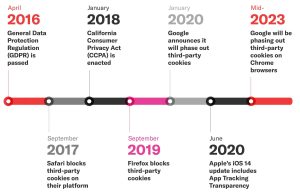 With the increased focus on user privacy, choice, and transparency, companies who relied on third party cookies for ad targeting and marketing campaigns need to rethink their strategies. Numerous brands are shifting their focus on improving first-party data collection and usage, which is more challenging to obtain, but provides deeper insight into a customer's preferences and behaviors. In 2023, marketers will need to increasingly focus on investing in first-party data (information collected directly from users, only from a brand's owned channels) and use it to trial different marketing tactics which best suit their target audience.
6. Mobile Optimization
At this point, speaking of mobile optimization as a "trend" might not be entirely appropriate, as the importance of optimizing mobile experiences has been talked about for many years. Even though mobile websites have become more sleek and usable, there are still brands which are not making it a priority to enhance user experience on mobile.
According to Statista, around 60% of the global population with access to the internet use mobile devices. Mobile internet traffic accounts to approximately 60% of total web traffic, with a predicted steady growth in the years to come. In 2020, a Deloitte study revealed that a 0.1s improvement in mobile site speed led to a 10% increase in consumer spend for some retailers.
With latency being reported as one of the main reasons consumers abandon mobile sites and their shopping cart, it's more important than ever to ensure your audience has a seamless experience across all your channels.
7. Use of marketing technology (Martech)
Martech (or marketing technology) is technology used to help create, execute, manage, and measure the performance of marketing efforts (both online and offline). Martech spending in the US has been predicted to surpass $20 billion in 2023, a 14% YoY growth. This is largely due to (a) the amount of available data accessible to businesses and (b) the importance of keeping up with the constantly evolving landscape of digital marketing.
By investing in Martech, companies have methods of better storing the data they've accumulated, but also of using that data to make decisions on their marketing strategy. In a world of omnichannel marketing, it's important to choose tools which will be truly valuable to your business and provide more robust solutions to both your team and your customers.